WELCOME TO AMBUSH PAINTBALL! 
Current Summer Drop In Hours:
Saturdays & Sundays from 10am- 5pm
Please call ahead to confirm availability if you require rental equipment. During the Spring & Summer months, we fill up fast on weekends. Always call ahead to confirm availability and make a reservation to secure your spot today! 
ABOUT AMBUSH: 
Ambush Paintball was established in 2001 and we have been providing fun, adrenaline pumping, exciting outdoor games for over 20 years! We celebrated our 20th anniversary in 2021 and are proud to still be offering paintball experiences!
Whether you are a first timer, or a seasoned paintball veteran, Ambush Paintball has something to offer you! We offer a wide variety of paintball opportunities including weekend drop-in rental groups, private games, corporate functions, special scenario games, and even our competitive Ambush Speedball Field. Regardless of your experience level, our friendly and helpful staff will ensure an amazing time!
Visit the above links for field information, maps, bookings, videos and other important info. Are you ready?
AMBUSH NEWS & UPDATES
Summer 2023
COPS & ROBBERS SCENARIO GAME @ AMBUSH 
Sunday, August 27th @ Ambush 
Ambush is excited to be hosting our summer scenario game this month on the 27th! Registration is open now and pre-sale tickets can be purchased on site at Ambush during operating hours for $35 or can be purchased on the day of at the door for $45. (only event paint purchased on day of event permitted- no first round strikes). Don't miss out! Register today! For more information call us at 604-812-2379 or email chris@ambushpaintball.com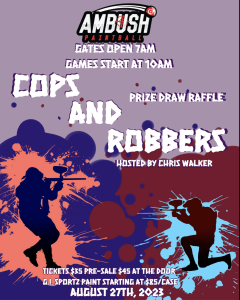 July 2023 – MOVIE PASS GIVE AWAYS! 
Mission Impossible: Dead Reckoning One AND Teenage Mutant Ninja Turtles: Mutant Mayhem!
Ambush has teamed up with Paramount Pictures & The Taro Group in July and gave away double-passes to the advanced screenings of the the new film MISSION IMPOSSIBLE: Dead Reckoning Part One in theatres on July 6th AND the new TEENAGE MUTANT NINJA TURTLES: Mutant Mayhem in theatres August 2nd. Thank you to everyone who entered at the field and online! Hope you enjoyed the summer movies! 



March 2023- NEW FIELD!!
Opening Sunday, March 12th for the Scenario Game then open to the public! More renovations coming this year! Check out our video of the new field in the link below. Stay tuned. 
https://www.facebook.com/AmbushPaintballField

MARCH 2023
Ambush is excited to be officially opening our newly renovated field AND… we are happy to be welcoming www.bcpaintball.com on Sunday, MARCH 12th 2023 to be hosting our first scenario game of the season "RED DAWN 2023″. To register you must contact BCPaintball.com (online payment accepted) or email them at bcpaintball.com@gmail.com for more information. Tickets only $40 and all players of all levels welcome! Don't miss out! Register today!!
                                                                         ARE YOU READY?….