July 2023

AMBUSH SUMMER 2023 HOURS
Saturdays & Sundays from 10am-4pm
Please call ahead to confirm availability and reserve your spots to be sure to get a confirmed game time.


Ambush Paintball is currently only open for private reservations of 10+ people Monday- Fridays, and are open for public drop in's on Saturdays and Sundays (reservations required- limited weekend availability). Reservations are recommended. Call ahead to confirm availability and times.
Ambush is committed to the safety of all of our guests and staff. We ask that all customers do their own health safety check BEFORE coming to the field. If you exhibit any Covid-19 symptoms or do not feel well, we encourage you to postpone your visit. Ambush will continue to provide hand sanitizer on site. We thank you for your cooperation and support!
To reserve a rental group, please click here.
Gun Owners:
We are currently open for Public Drop In on Saturdays and Sundays from 10am-4pm. We strongly recommend you call ahead and reserve a time and check availability as we still are limiting numbers of players on weekends due to Covid and may close early to due inclement weather.
Sunday Speedball Practice:
OPEN FOR 2023 SEASON
The Proving Grounds run Speedball practice every Sunday at the Ambush Speedball Park during their season. Check out their Facebook page for all updated information here: https://www.facebook.com/tpgambush/
Airsoft:
AirsoftX IS OPEN FOR THE SEASON. Airsoft is run by AirsoftX at Ambush Paintball on Sundays only, and does their own rentals and check ins. To reserve rentals for Airsoft on Sundays, call or text Gino. Check their website for updated information. Reservations are strongly recommended.
AIRSOFT: Visit www.AirsoftX.org to reserve
---
Media:
We ask that all media clear their presence with us prior to attending. We have very limited availability and want to make sure all photographers, videographers, etc give us written notice of their intent. Ambush has the right to refuse entry. To reserve, please email chris@ambushpaintball.com
---
Enough of that. Let's get back to what we do best!
We look forward to welcoming you to our field! Are you ready?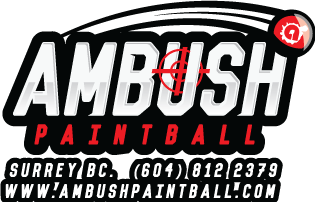 DISCLAIMER:


Reservations are required for all games at this point. Call (604) 812 2379 or email bookings@ambushpaintball.com to get your name on the reservation list. Field admission prepayment may be required. Ambush reserves the right to refuse admission at our discretion. All Covid protocols in place must be adhered to.