Waiver Form
At Ambush, we require all playing customers to sign a waiver form at the start of every day of play.
Players must be 12 years of age or older to play.
For those under 18, the waiver form must be signed by a parent or guardian that is over 18 years of age. It's a good idea for parents of players ages 12-17 who will not be in attendance to sign the form before they get to the field.
WAIVER FORM: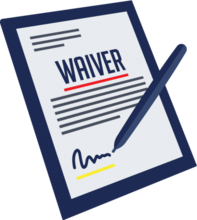 Forms are also available at the field.
Field Rules
Any players/groups not following our safety protocols will be asked to leave immediately. Safety is Ambush Paintball's top priority.
Maximum Velocity is 300 FPS. Players are responsible for setting this themselves. Refs will be doing spot checks and players shooting above 300 fps may lose the right to play that day.
Players under 18 must have an adult sign a waiver form. 12 years old is minimum age to play.
All players must sign a waiver form prior to playing. One waiver per player per visit.
This is a field for all. Respect all players, staff, and all guests on site. Absolutely no threats, yelling, physical contact, fighting or other undesirable behaviour- you will be asked to leave.
All players must respect the field referees. The referee is in charge of keeping things fair and safe on the fields. Respect any request made by the referee. Non-compliance will result in refused service.
All compressed airtanks must have a VALID hydro date. Players caught using old tanks will be banned from Ambush Paintball.
Do not Litter- please help keep our fields clean and tidy.
All players must attend and comprehend a safety lesson at the start of their session given by Ambush Staff. Non-compliance to these rules and expectations will result in immediate game end for that player/group.
Players must adhere to all traditional paintball safety procedures outlined in the safety lesson.
If Ambush staff suspects a customer to be under the influence of drugs or alcohol you will be asked to leave without refund. Zero tolerance policy.
Respect the Ambush Paintball Staff and Customers at all times. Failure to do so may result in your expulsion from Ambush Paintball without refund.
Field Paintballs Only. No outside paintballs allowed.
Ambush Paintball is a privately owned business and reserves the right to refuse service at their discretion.