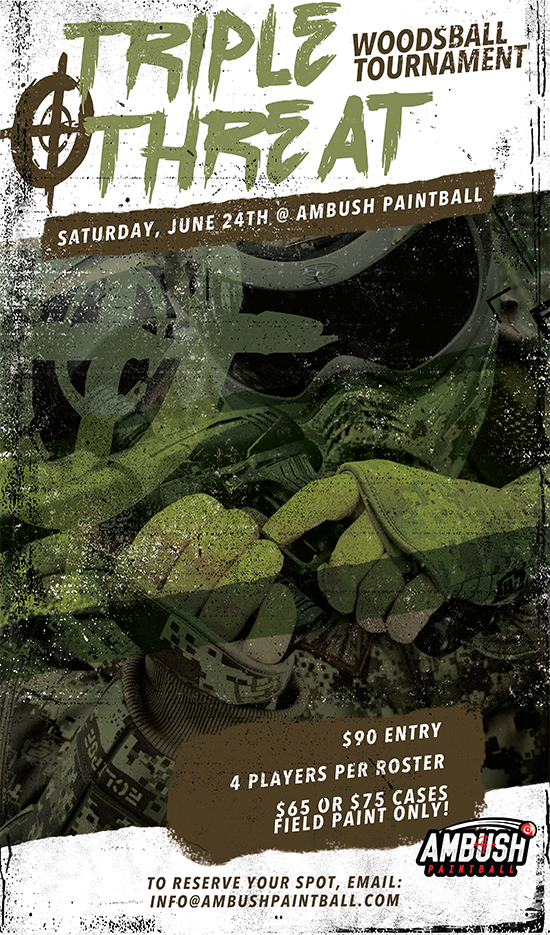 Hello everybody!       Spencer "Ace" Moase here with another installment of fun times at Ambush Paintball.
Instead of a scenario
this year, Im going to run a 3 man woodsball tournament which I have fond memories of playing a few of myself. They always end up being a good time win or lose. You make new friends, discover more about who you are as a paintballer; and grow with your team. This event is first and foremost about fun.  I encourage friendly competition and healthy rivalries to develop in the chase for top spot.
Get on the horn and start gathering a team!
Absolutely ecstatic to see all you ballers out and to help provide a stage of compeition for our local woodsball scene.
Much love everyone!!
ENTRY:   $90   (including taxes)
PAINTBALLS:  $65 for low grade, $75 for premium grade (including taxes)
FIRE MODE:  Semi Auto, Capped at a maximum of 11 bps
DATE:  The event is on June 24th @ Ambush Paintball (Saturday)
TYPE OF EVENT: This will be a round robin type tournament where you meet
each team at least once to do battle amongst each of our different fields. Scores will be tallied and teams will advance past
the preliminary stage for the multiple levels of finals. Teams who make it all the way will enjoy the rewards for their cunning and skill to make it to the finals via prizes
You can register in place at the woodsball field, via email, or
through email or by filling out the online form below: