Chris Walker and Ambush Paintball Present the: 
Throwback Throwdown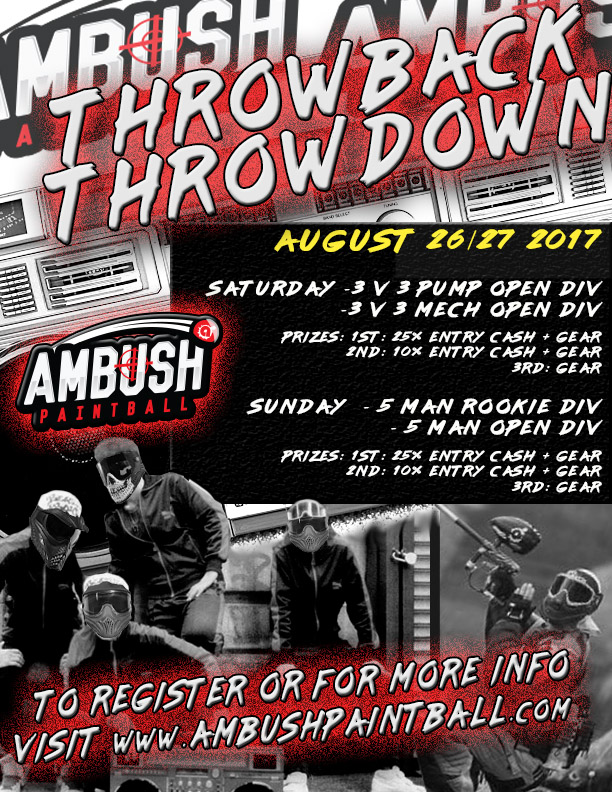 Aug 26/27 @ Ambush Speedball Park (7550 160th street, surrey B.C.)
Our brazen Ambush Employee Chris Walker has taken it upon himself to organize a speedball tournament at our field. With aims to host an event not unlike the days gone by, he has a solid event planned out for all the paintball players of BC. A weekend of different formats, fun, and friendly competition.
The tournament is divided up into two separate days, allowing players to play in different divisions and formats each day. 3 man Pump and Mechanical play will take place on the saturday, with 5man round robin speedball taking place on the sunday.
To Register:
EMAIL LINK: Click Here To Register Your Team!
dont forget to include your team name, player roster, division you wish to register and how you wish to pay for your teams entry in your email
or
REGISTER IN PERSON: you may register your team at any regularly scheduled ambush speedball practice. Just ask the staff and they will get you all sorted.
COSTS
Entry Fees:
Pump $100
Mechanical $100
5man Rookie $200
5man Open $250
Paintballs
Field Grade $60
Competition Grade $70
SCHEDULE
Saturday:
3v3 Pump open div
Pump Guns Only
Entry: $100/team (max roster of 4)
Prizes:
1st: 25% entry cash + gear
2nd: 10% entry cash + gear
3rd: Gear
3v3 Mechanical Open division
Mechanical Guns Only (no RT)
Entry: $100 (max roster of 4)
Prizes:
1st: 25% entry cash + gear
2nd: 10% entry cash + gear
3rd: Gear
Sunday:
5 man rookie div
Entry $200 (max roster of 6)
Prizes:
1st: 25% entry cash + gear
2nd: 10% entry cash + gear
3rd: Gear
5 man open div
Entry: $250 (max roster of 6)
Prizes:
1st: 25% entry cash + gear
2nd: 10% entry cash + gear
3rd: Gear