Ambush Paintball is BACK!
Thanks to the steady decline in covid cases, we are ecstatic to announce our re-opening date of June 5th.
We have made many changes to the how our field looks and operates. Some we had planned others were things we have adapted to as part of the current goings on. Everything we are doing is to make sure you our friend and customer have a fun, and ultimately even safer paintball experience. We feel confident that we can offer you some much needed fun and excitement while still being mindful of the times at hand.
Such changes include; increased sanitization of rental gear (UV-C, bleach etc), screening at the entry to our property of all players, maintaining adequate social distancing at all times both on and off the field, plastic sneeze guards at the rental and payment counters, sanitizing all frequently touched surfaces every 30 minutes, multiple hand sanitizing stations and a touch free hand wash station. Since we are going to be following the provincial mandates which is new territory for us as a company, we ask you consider the following announcements;
Drop In Rental Groups:
In order to maintain safe social distancing numbers, proper sanitary measures and to maximize the effeciency of our rental fleet we are going to be operating two distinct daily groups; a morning and an afternoon. All players will play together in a single group whilst still adhering to social distancing. This also allows our staff time to sanitize the rental equipment between groups. We will not be making any exceptions to the 45 person cap so reservations are highly recommended. NOTE: we will not have rental paintball groups on sunday to allow REEL WAR Airsoft their weekly game. We will still run prebooked private groups of 10 or more during the week.  To reserve a rental group, please click here.
Gun Owners:
For drop in play Gun owners can play all day 10am-5pm like your normally would so long as you adhere to social distancing. We are limiting the amount of gun owners per day to approximately 25 so reserving ahead is a good idea. NOTE: We will not have gun owner drop ins on sunday to allow for REEL WAR Airsoft to play their weekly game.  To reserve as a gun owner, please click here.
Sunday Speedball Practice:
Our weekly practices will officially resume sunday June 7th. Again, Speedball will be limited to 45 players total.   We will also be offering private speedball sessions to groups or teams at our standard pricing. Private sessions must be FPO. 
Airsoft:
Reel War Airsoft will continue running games on sunday as per usual. Reservations are strongly reccomended. visit www.reelwarairsoft.com to book.
---
"Phase 2" Hours of Operation:
Monday-Friday:
10am -7pm   BY PRIVATE RESERVATION OF 10 (or more) ONLY.
Saturday:
PAINTBALL 10am-5pm   
DROP IN / PRE-BOOKED RENTAL PLAYERS
"morning session"  10am-1pm
"afternoon session" 1:30pm – 5pm
PAINTBALL EQUIPMENT OWNERS
all day 10am-5pm
Sunday:
PAINTBALL:
Woodsball: Closed
Speedball: 10am-4:30pm    
AIRSOFT:
9am-5pm    Visit www.reelwarairsoft.com to reserve
---
Notice to potential visitors to Ambush Paintball:
Masks while being worn by all staff, and simply highly recommended and not mandated for our customers. If you or anyone you have been in contact with has been in close proximity to anyone showing symptoms of sickness, then we ask that you please not attend our facility. We ask that you stay home and wait until a time that is safe for you, our staff and fellow customers. Paintball isnt worth a trip to the hospital for.
Media People:
We ask that all media people clear their presence with us prior to attending. We have very limited availability and want to make sure all photographers get their shot out there. To reserve, please email chris@ambushpaintball.com
Spectators:
We will not be allowing spectators for the current time being. If you are having someone drive you, please carpool when possible and understand that they may not be able to stay on site the entire duration of your game.
---
Enough of that. Let's get back to what we do best, shooting our friends.
We look forward to welcoming you all back to our field.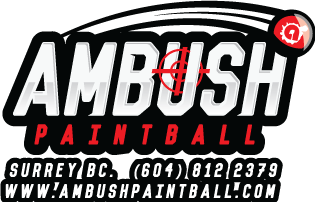 DISCLAIMER:
AS STATED, RESERVATIONS ARE STRONGLY RECOMMENDED, No minimum reservation size needed during drop in weekends. We are only allowing 45 players on site at any given time. Call (604) 812 2379 or email bookings@ambushpaintball.com to get your name on the reservation/guest list. Field admission prepayment may be required. No exceptions will be made to the 45 maximum rule for any reason.